Diamond Way Buddhism: The Karmapas
The Gyalwa Karmapa is the principal lineage holder and spiritual guide for the Karma Kagyu tradition of Tibetan Buddhism. The historical Buddha Shakyamuni is said to have predicted the arrival of the Karmapa as "one who is the activity of the Buddha" and also the first historical consciously reincarnated Lama of Tibet. The Karmapas are sometimes referred to as the "Black Hat Lamas of Tibet" on account of their black crown which is said to symbolise the activity of the Buddhas and was woven by dakinis.
The process of recognising the Karmapa is historically the responsibility of the Sharmapa, who is the second lineage holder of the Karma Kagyu. The current Karmapa, H.H. the 17th Karmapa Thaye Dorje, in accordance with Kagyu tradition, was officially recognised as the authentic incarnation of the 16th Karmapa by Kunzig Shamar Rinpoche in 1994. This cyclic transmission of the student-teacher relationship is essential to help maintain the unbroken lineage which can be traced all the way back to Buddha Shakyamuni. Below is a full list of the Karmapas. Clicking on their name will open a link that has a short description of each Karmapa's life.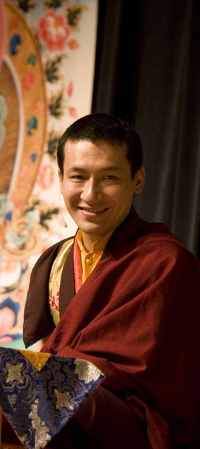 © 2009 Diamond Way Buddhism in Exeter