CENTRE TEMPORARY CLOSURE
We regretfully announce, that due to advised social distancing recommendations to minimise the spread of COVID-19, the centre is closed until further notice. We will keep you updated via our newsletter and social media channels. Sorry for any inconvenience caused and thanks for understanding.
Many good wishes
Buddhist Meditation in Exeter
The Exeter Diamond Way Buddhist Meditation centre is a place for a relaxed and dynamic community, ideal for those interested in meditation practice, learning about the nature of mind, and combining the philosophy of Buddhism with our everyday modern active lives. We are only about 5 minutes walk from Exeter city centre; for address details and a street map please see our contacts page.
Regular Meditation Times
Lama Ole Nydahl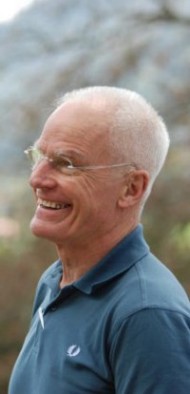 Thursday 7:30pm: 16th Karmapa Meditation
For newcomers to Buddhism there is a brief introductory explanation that gives an overview of Diamond Way Buddhism, its Buddhist practices and how it fits with the overall Buddhist tradition. Next there is a 10 minute talk from a member of the group that covers in more detail a specific topic within our Buddhist practice. Lastly we have the main focus of the evening, a 16th Karmapa guided Buddhist meditation which takes approximately 25 minutes. Any questions you may have can be asked in a relaxed manner over refreshments after the meditation.
Sunday 10.30pm - 1.00pm: Foundational Buddhist Meditation Practice
Sunday morning is for one's own personal Diamond Way meditation practice. Although these are non-guided meditations, simply meditating with friends is a lot easier and more joyful than always practising on your own. You can come for the whole, or just part of the session and if needed receive introduction for the Refuge meditation or your next foundational practice. After meditation, we sometimes have a light lunch together, either here at the Buddhist centre or at a local venue.
Monday 6.30pm - 8.00pm: 16th Karmapa and Personal Practice Meditation.
The evening starts with the 16th Karmapa meditation which takes about 30 minutes. After a short break, and replacing the guided "Loving Eyes meditation" previously practiced on Mondays, there is the opportunity for friends to meditate with their personal practice. Mondays are open to anyone that has previously been to our introductory evening on a Thursday although if you find Thursday evenings difficult to attend, please let us know beforehand and we can arrange an introduction for you on the Monday evening. All of our meditation sessions at the Exeter Diamond Way Buddhist centre are free of charge.
Lectures and Courses
For the latest information on what's coming up in Exeter, please have a look at our events page or please drop us an e-mail if you have any questions.
About the Exeter Buddhist Centre
Diamond Way centres are non-monastic consisting only of lay practioners. We maintain the authentic and unbroken lineage of oral transmission which can be traced back to the historical Buddha of 2550 years ago. Centre members share the responsibility of guiding the public meditations and giving short talks on Thursday evenings about various aspects of Buddhism. Our weekly meditation evenings are open to the public, are free of charge, and all are very welcome to come along and experience them first hand. We regularly have talks on indepth Buddhist subjects by more experienced practioners who travel around the world giving talks at Diamond Way Buddhist centres.