Our Latest Events in Exeter
BUDDHIST TALK by Tommy Boggs
DATE Sat Feb 8th @ 19:30
SUBJECT The Karma Kagyu Lineage
WHERE Exeter Diamond Way Buddhist Centre

About Tommy Boggs
Tommy was born in Copenhagen in 1950 and first came into contact with Buddhism over 30 years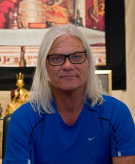 ago when, in 1981 he took Buddhist refuge with Shamar Rinpoche. Tommy spent several years studying Buddhism in the East and in 1986 met Lama Ole Nydahl. Inspired by the Lama, Tommy moved into, and run the Copenhagen Buddhist centre during which time he took part in several of Lama Oles tours. Lama Ole asked Tommy to start travelling to teach about Buddhism in 1995 and since then has taught all over the world.

Feature on Lama Ole Nydahl
Lama Ole Nydahl's Travel Plan 2013
The latest international teaching schedule for Lama Ole Nydahl can be found on his website here. Lama Ole Nydahl's Travel Plan
Welcome to the Exeter Diamond Way Buddhist website
Hello, and a warm welcome to you from the Diamond Way Buddhist centre here in Exeter, Devon. The centre was opened in 2004 and is one of over 655 international Diamond Way Buddhist centres and groups around the world. Our centres were founded by Lama Ole Nydahl according to the wishes of H.H. the 16th Karmapa Rangjung Rigpe Dorje. We follow the spiritual guidance of H.H. the 17th Gyalwa Karmapa, Trinley Thaye Dorje. and are part of the Karma Kagyu lineage of Tibetan Buddhism which is a noble tradition going back over 2500 years.
Meditation is a major corner stone to the Diamond Way Buddhist practice. Our meditation brings a calmness and new awareness of oneself although this is when our practice of working with mind is just beginning. Through our meditation we work on developing additional qualities such as wisdom and compassion for all sentient beings. It is this which gives us a true inner happiness and with regular meditation these positive personal developments become part of our everyday lives.
If you are interested in learning more about Buddhist philosophy and its meditation practices then please have a look at our centre's page to find out about our meditation times & introductory evenings or see what public events are coming up in and around the Exeter area.
Social Media Links

Follow Diamond Way Buddhism in Exeter on Twitter

Follow Diamond Way Buddhism in Exeter on Facebook

Follow Diamond Way Buddhism in Exeter on Google++